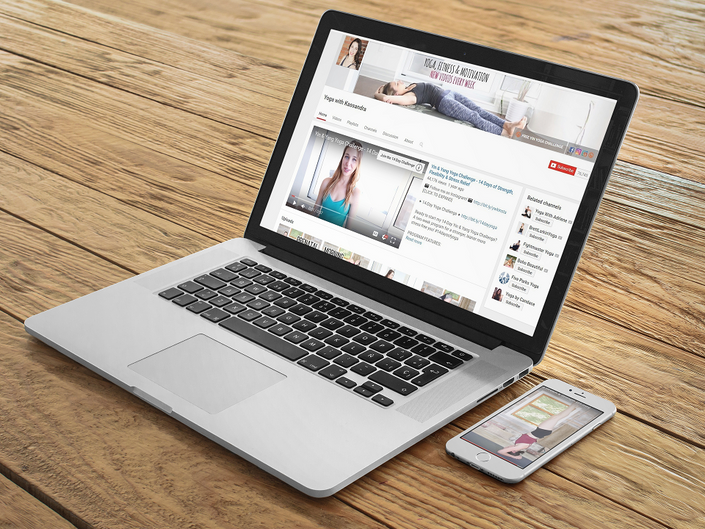 Youtube 101 for Yoga Teachers & Health Professionals
Start and Grow A YouTube Channel
Enroll in Course
Start & Grow a Successful YouTube Channel
A step by step, in-depth online training

This in-depth online training is an overview of everything you need to know to create and grow a YouTube channel and start selling online programs as a yoga teacher. If you've ever thought about teaching yoga online, this is the best place to start!

No previous experience required! Not tech-savvy? Don't worry! I'll teach you everything you need to know in a simple, clear and accessible way.

It took me 5 years to build my Yoga with Kassandra YouTube channel to 500,000+ subscribers and had I known then what I know now, I could've cut that time in half. I've also created dozens of online courses, a mobile app, membership sites and so much more. When it comes to passive income, I've tried it all!
I don't want you to struggle and try to "crack the code". This is the real deal, an all access pass to the knowledge I've learned building my YouTube channel and online business over the years. This is the information I wish I had learned before I got started, the stuff no one would tell me about. I'll show you my exact system for growing online and creating passive income streams.
If you want to expand your audience, transform your career as a yoga teacher and bring in new forms of income, this training is for you!
TRAINING CURRICULUM
✔️Why YouTube?
Why YouTube is THE place to be for health & wellness professionals.

✔️The Basics
Learn the logistics of setting up your account and uploading your first video.

✔️Creating Media
Overview of the equipment required to produce and edit media without breaking the bank.

✔️Video Essentials
What every good YouTube video needs in order to be successful.

✔️Growing Your Channel
How to gain more views and subscribers.

✔️Monetizing Your Channel
Start making money on YouTube to earn passive income.

✔️Keys To Success
My 5 keys to succeeding on YouTube regardless of competition.
✔️How To Create Online Courses
5 phases of creating an online product


✔️Guest Expert Interviews
YouTube guest expert, branding expert and community building expert interviews.

✔️Bonus Resources
A look at my videoshoot process and business model for yoga teachers.


Includes an in-depth ebook guide!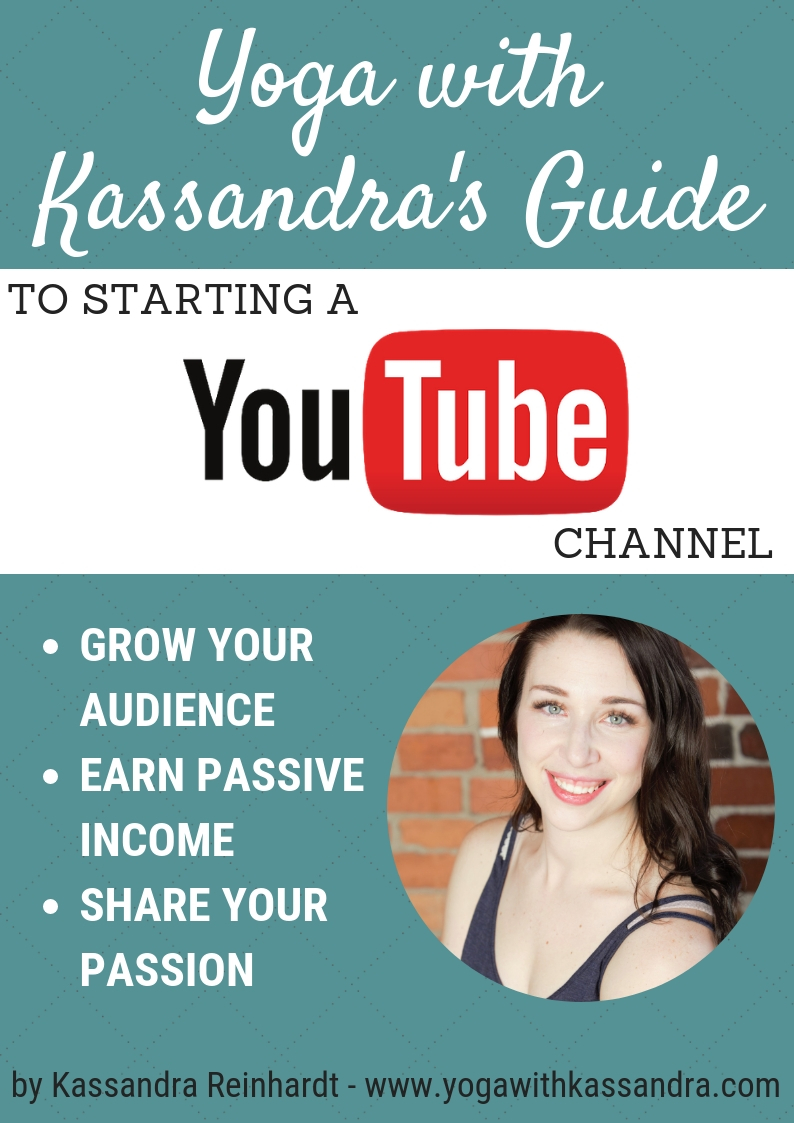 WHAT OTHERS ARE SAYING
"I can't thank you enough for putting out this training. It was not only inspirational but so informative that I can not wait to get started! You are so knowledgeable about the topic and offered honest trial and errors that I feel confident that with hard work and your advice I can make this work for myself. This resource is something I will come back to over and over while building my brand and my company." - Jessica Cianci
"WORTH EVERY PENNY!! I will be re-watching this over and over again. Seriously, thank you so much for offering this training, I've learned so much from you and I now feel ready to start my own yoga youtube channel! I used to be really overwhelmed by the idea of filming videos and figuring out how to build an audience but now I feel empowered and ready to take on the world. Seriously, THANK YOU!" - Jacqueline B.

"I LOVED this training! Kassandra went much more in depth than I was expecting and provided amazing insight into getting started with youtube. I haven't found any other advice that was so tailored to exactly what I want to do. I am inspired to start my youtube journey! " - Emily Stajov

"I really enjoyed the training as it was so informative and you explained everything very well. It has helped me so much and now I really know what I need for a successful youtube channel. Before the training I felt totally overwhelmed by everything and I had my doubts that I would be able to start my own channel. But after your workshop I feel more confident and my doubts are cleared up. I like that you talked so openly about everything and shared all your advice with us. And last but not least, I love that you are so welcoming and happy. It was the best investment I have made so far and I thank you very much!" - Kim Robinson

"Thank you so much for being so open and honest with this material! I wasn't expecting this much transparency and I'm eternally grateful to you for letting us in on all the youtube secrets." - Lyne C.

"I just want to say thank you for the super informative YouTube tutorial.
I've updated my banner and channel description, got my head around video manager (ish!) and set up movie maker to edit my videos and I'm actually looking forward to getting my channel going. :)" - Rachael Wagstaff

"I've been following Kassandra on youtube for over a year and always wondered what it would be like to teach online myself. As a teacher I felt like I had so much more to offer the world but the idea of putting myself out there like that felt extremely intimidating and scary. I was confused by the technical skills required and had no idea how I was supposed to stand out from the crowd. After taking this training I have a clear plan and know exactly which steps to take. I'm so excited to start sharing my gifts with the world! Thank you so much Kassandra for inspiring me to chase my dreams. " - Anita-Lea P.

"Thanks so much again for the YouTube 101 training! It was so honest, transparent and informative and really helped to answer so many questions I had about starting a YouTube channel! I really appreciated how you took us through the process step-by-step and shared your wisdom from your experience - good and bad! I definitely feel more confident about starting my own YouTube channel!" - Mira P.

"I've taken a lot of trainings on social media in the past and most only give you generic information or try to sell you on another product. I'm happy to say that in this training I learned a lot of new techniques and Kassandra was very transparent in how she runs her youtube channel." - Carl L-W.

"Clear, actionable and easy to follow. Exactly what I was looking for!" - Kalel K.

"The idea of starting my own channel used to give me so much anxiety! I'm not very tech-savvy and haven't used social media much before so I didn't know whether this would be right for me. I now feel like I know exactly what to do to be successful on YouTube and I'm ready to try it for myself! Thank you Kassandra for the in-depth and ACCESSIBLE training (even for an older lady such as myself) ;) ." - Janice G.

"THANK YOU for being the kind of yoga teacher that I aspire and work towards being every day.... authentic, honest and sharing! This training was awesome. It was well organized, thorough and easily understood. The number one thing missing in YTT is information like this webinar.... direction on how to make money as a yoga teacher." - Mia Tojal

Your Instructor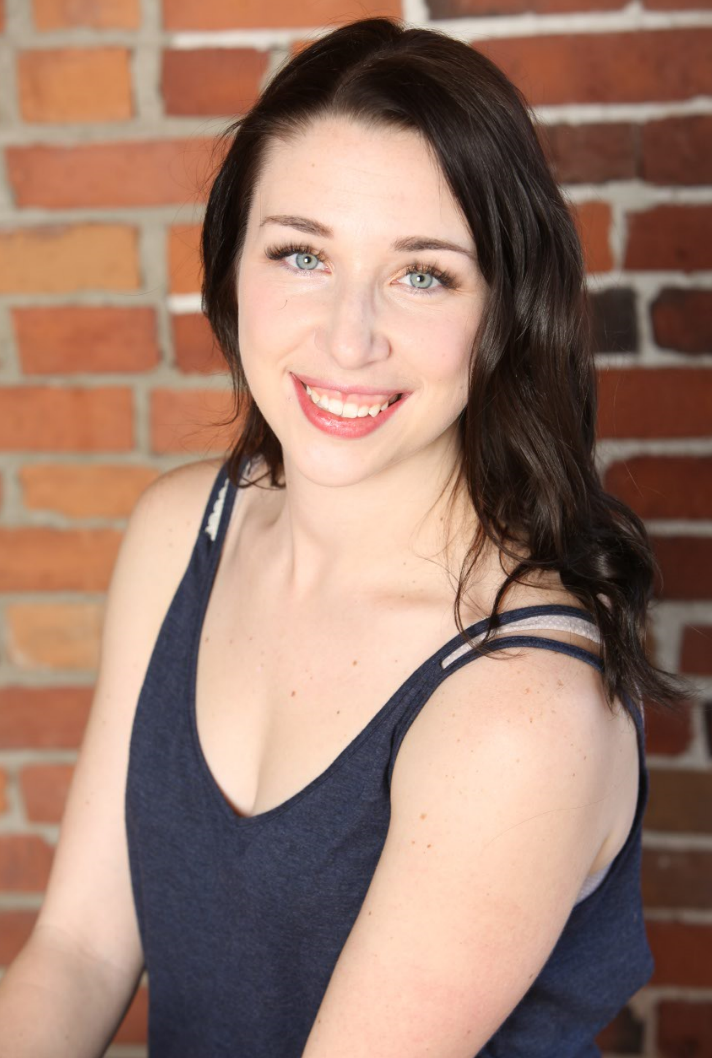 I'm an Ottawa-based Yoga Instructor on a mission to help others feel great with yoga. I started practicing yoga in 2008 as a way to become more flexible and learn to manage stress and anxiety. Little did I know in a few short years I would have the privilege of becoming a teacher, passionately committed to sharing yoga with others who, like me, were sick of feeling less than vibrant.
Before I started practicing, I barely had any energy, I couldn't quiet my mind for a single minute and always seemed to have aches and pains in my legs and lower back. Once I started practicing regularly, bit by bit I became stronger, calmer and braver. Yoga is now ingrained in my daily life in a fundamental way. It helps me meet any challenges I may face by teaching me to be present, focused and receptive.
Through my Yoga with Kassandra YouTube channel, I've been able to introduce Yin Yoga to hundreds of thousands of people from across the globe. What started as my own personal sadhana to ease stress and anxiety quickly unraveled into my greatest passion, an exciting career and a whole new way of life!
My aim is to create accessible, easy to follow yoga classes that you can do in the comfort of your own home.
I hope you find value in my offerings and thank you so much for stopping by.
YOUR QUESTIONS ANSWERED
1. WHO IS THIS TRAINING FOR?
This training is for health & wellness professionals who are ready to stand out from the crowd and take their teachings online! If you've ever been curious about starting a YouTube channel but have felt overwhelmed by the process, this is for you! If you want to start creating online courses this will teach you how.

2. DO I NEED TO BE TECH-SAVVY OR HAVE PREVIOUS EXPERIENCE?
No! This training is intended for beginners. You do not need to have any technological knowledge or experience filming, editing or marketing videos, that's what the training is for :) I will take you through all of this information in a way that is relatable and easy to understand. BEGINNERS WELCOME!
3. HOW MUCH DOES IT COST?
The training is 197 USD.
4. WHAT IS YOUR REFUND POLICY?
There are no refunds given for this training, I believe in honoring the investments we make in our education. This is an in-depth extensive training giving you all of the tools you need to start and grow online.